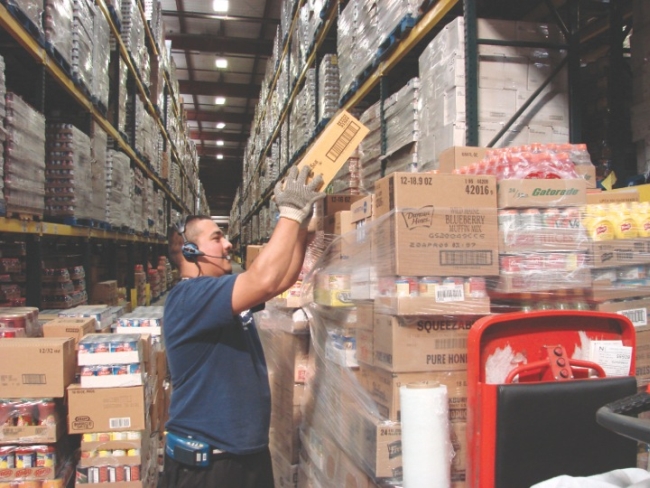 Warehousing
Since the beginning, warehouse expansion has stayed with the fast paced growth of the Affiliated Foods, Inc. member stores. Continual improvements in warehouse equipment, storage racking, technology, shipping, training and safety have also matched that same growth.
Affiliated is housed in over a 1.2 million square foot modern warehouse facility on 92 acres located in Amarillo, Texas. The warehouse averages over 55,000 SKU's on a full line product selection including grocery, frozen foods, milk and dairy, eggs, fresh meat, fresh produce, bakery, deli, health and beauty care, general merchandise, dollar items, Hispanic products, natural-organics, food service and tobacco.
In addition to photographing and archiving every pallet and load leaving our facility to our member stores, AFI moved to the next level with our order selectors using "Go Pro" type body cameras. These devices are just another step that helps AFI assure accountability, shipping accuracy, inventory control, security and safety.
AFI offers the following warehouse positions:
Order Selectors: Order Selectors fill customers' orders using state of the art voice recognition technology. Starting wage for an Order Selector is $12.50 an hour making up to $17.50 within the first year if all scheduled goals are met.
Forklift Operators: Forklift Operators use cutting edge voice recognition technology to replenish inventory with full pallets of products. Starting wage for a Fork Lift Operator is $14.00 an hour making up to $18.00 within the first year if all scheduled goals are met. (Experience preferred)